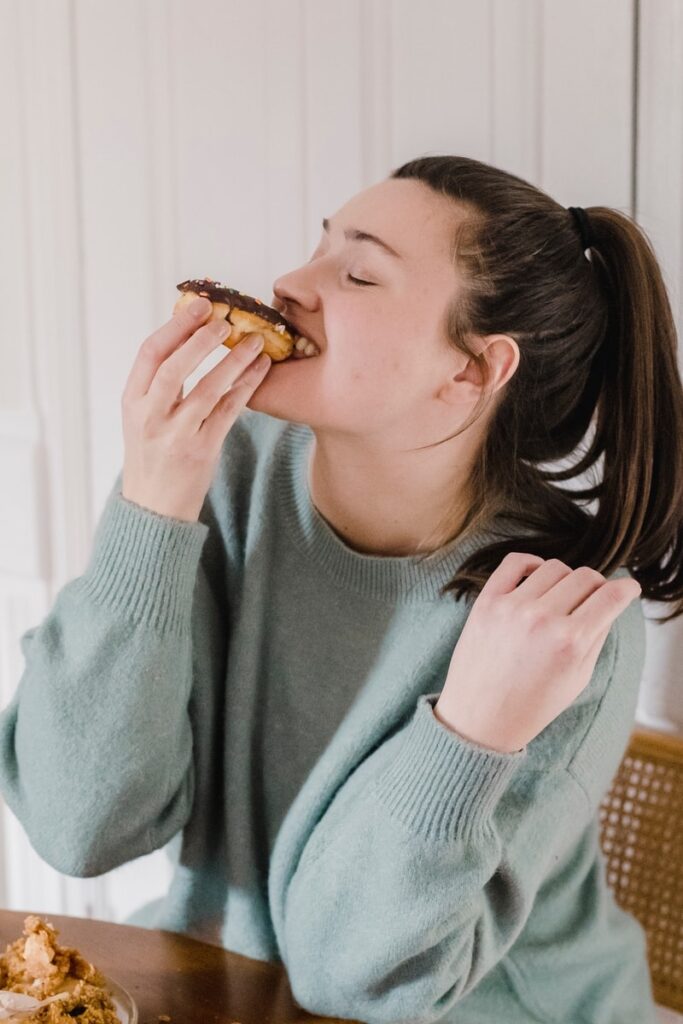 You stand at the workspace and steaming over a fight with your coworker then searching for some ice cream to cool your emotions.
After that, you sit on the couch and eat a whole bag of chips to relax after a stressful day.
This is emotional eating. Emotional eating can make you feel guilty the day after if you are trying to improve your weight. Even if you've worked hard to make good habit changes, emotional eating can destroy your efforts.
Emotional eating is one form of non-hunger eating, meaning it is triggered by something emotional rather than physiological hunger. If we eat when our body has no true need for calories, it stores those extra calories in the form of body fat for later use.
In this article, I'd share with you my top five tips for combatting emotional eating:
1. Recognize the root cause
While hunger tends to come on gradually, emotional eating is more likely to be abrupt and result from daily situations or circumstances that we encounter with.
An unlucky day or a fight with a sibling are short-term issues. But emotional eating can stem from bigger issues including chronic stress, long-term anger, depression, and other concerns. If these happen to you, you may need counseling, stress management, exercise, and other techniques to improve your life.
You are more likely to be triggered to eat emotionally in bad situations. The first thing you need to do is identify and address the true source of your emotional eating to make a more rational choice.
2. Swap out your worst snacks
If you don't have a giant bag of greasy chips at your vision, you can't eat it. Overeating processed snacks can raise your levels of the stress hormone cortisol. And, sweets foods can even make certain mental concerns, including symptoms of depression, worse.
Try popcorn with salt and oil only if you really need a snack. You'll get the whole grains that are one important source of the feel-good hormone serotonin. You'll also get antioxidants to boost your immune system and far fewer calories than chips. Roasted chickpeas are another great crunchy option with protein and fiber to fill you up.
As an alternative to your favorite candy, cake, or pies, I recommend you keep a bowl of sweet fruit at a place you can easily pick it up. Studies show you're more likely to eat fruits and veggies when they are easy to access.
By the way, make a list of healthy alternatives. It can be taking a bath, going for a walk, reading a good book, calling a friend. Or enjoy a bit of vegan-friendly snacks like smoothies, salads, or air-fried tofu.
3. Choose foods that fight stress
Have you ever heard about hot tea can help fight stress?
Tea often contains helpful antioxidants. Especially green tea, matcha tea, and white tea contain an amino acid called L-theanine that may help reduce stress levels. This is the reason people offer hot tea in emotional situations.
Try dark cherries if you like having snacks late at night. This snack not just offers you a sweet treat, but also helps increase natural levels of melatonin to help you sleep. Besides, salmon and other fish rich in omega-3 fatty acids may help with sleep.
Dark chocolate (at least 72% cacao), whole grains, nuts, legumes, and fruits and vegetables all have a part to play in maintaining a healthy mind.
The key here is storing foods that help improve your stress or emotions and avoiding processed foods that might make you feel worse.
4. Make emergency packages
If you're prone to emotional snacking, prepare emergency packages.
As a note, don't eat any food straight from the package. Grabbing snacks from the package is a root for overeating as you often tend to eat the whole package rather than part of it.
Instead, buy healthy snacks such as nuts, popcorn, or sliced veggies then put them into small bags or containers. Consider them as your emergency snack packages.
5. Eat Slower
Eat and chewing slower can help to reduce the number of foods you consume at the time. People who chew the minimum number of times before swallowing often eat substantially more at every meal than their thoroughly chewing peers.
The bottom line
Emotional eating is a common problem but it's not hard to address. Just follow these simple steps and you can stop the bad habit.
If you need medical help to address emotional issues, go for it. A doctor can help you tackle stress, depression, anger, or any other negative emotions with a full treatment plan.