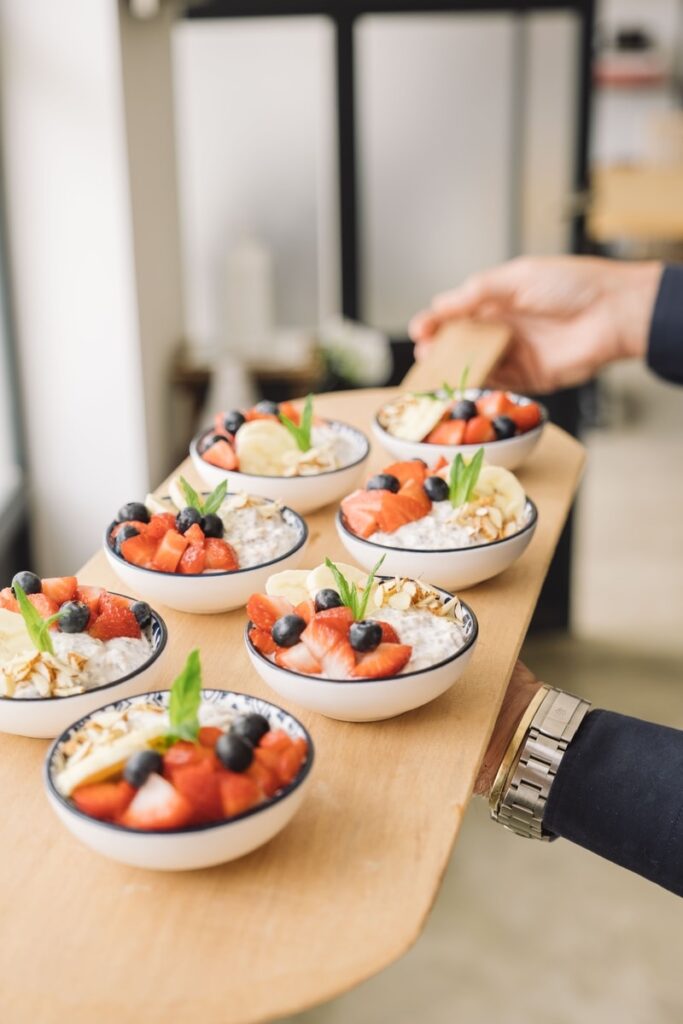 1. Banana Matcha Smoothie
Start your day off with this Banana Matcha Smoothie is a nutrient-packed healthy that you can start your day off. It is the perfect combination of sweet bananas with earthy matcha as well as other delicious greens that are high in iron.
A smoothie with matcha can help you stay alert and energetic all day long as it gives you a calmer caffeine boost than coffee. It is especially worth it if you are looking for a coffee substitute for your morning.
The sweetness of bananas will balance the earthiness of matcha. This mix also includes spinach for nutrients, flax for fiber, and almond milk to smooth it all together! This recipe is super simple and its taste is going to blow your mind!
2. Blueberry Spinach Smoothie
This blueberry spinach smoothie is so much rich in vitamin-c to help boost your immune system, especially when you are starting to feel a cold is coming.
If you've had the sniffles at least once in the winter or if you have some allergies, this drink is the best fit for you. It's not hard to do, just follow this recipe and you will absorb so much more vitamins and minerals for the body.
3. Coffee Protein Shake
This coffee protein shake recipe will fascinate you! It's not a regular protein shake, it's the combination with cold brew coffee, peanut butter, and banana – a perfect flavor combo!
This protein shake recipe will get you full of energy for a highly productive morning. Super easy to make, just pop everything into a blender and everything will be ready in a few minutes.
4. Apple Pie Smoothie Bowl
This smoothie is perfect for apple lovers. Smoothies are always an easy way to combine a whole bunch of nutrients into one! You can add your favorite extra toppings to make it a complete meal! These apple pie smoothie bowls are mixed with fruits and vegetables are completely a great breakfast option that will make your day.
5. Carrot Cake Smoothie
This veggies smoothie is a protein package and perfectly creamy. It combines frozen bananas, carrots, and cashew butter. Nothing can be better than a healthy breakfast full of minerals and vitamins. The cashew butter in this smoothie is a secret that adds the reasonable savoriness you need, that is not too savory and not too sweet. It's veggies & delicious.
6. Peach Smoothie
Enjoy a smoothie every day to help keep the health issues away. This simple peach smoothie will make you obsessed! It tastes just like a peach pie because it has hints of ground cinnamon and is so delicious.
This peach smoothie is a healthy dessert and we just need 5 ingredients to make it including frozen peaches, banana, cinnamon, almond milk, and vanilla. You can use fresh fruit if you don't have frozen peaches or bananas. Adding a few of ice will make your smoothie comes out nice and cold.
7. Chocolate Peanut Butter Banana Smoothie
This Smoothie is full of protein and greens. What fascinates me is it tastes exactly like a peanut butter cup.
There is nothing better than a combination including chocolate, peanut butter, and banana. It's super delicious I'm sure. These three flavors come together to taste like a yummy dessert that you must try.
8. Refreshing Ginger Pineapple Smoothie
After enjoying this Refreshing Ginger Pineapple Smoothie, you will see it is the best healthy breakfast or a delicious snack in the summer. The smoothie is the perfect combination sweet of fruit and spicy ginger that won't disappoint you.