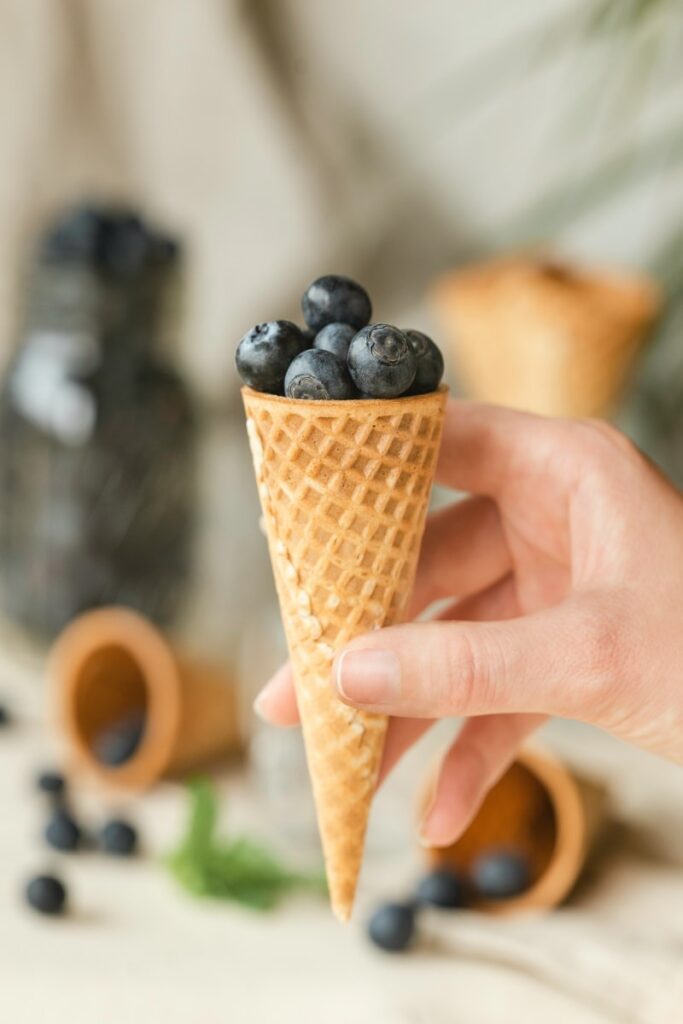 If you're on the vegan diet, you only eat vegetables and fruits, excluding all animal and dairy products. So coming up with healthy snack ideas that fit your diet can be challenging.
Luckily, countless combinations of plant foods can make up healthy and satisfying snacks — whether you eat fully vegan or are simply interested in reducing animal products in your diet.
Here are my favorite Vegan Snacks that are quick to prepare, nutritious for your body, and will bring back the pleasure of snacking.
Make it at home and enjoy!
1. Fruit and Nut Butter
Fruit and nut butter, made from blended nuts, is a delicious sweet animal-free snack with many nutritional benefits.
Fruits provide fiber, vitamins, and minerals, while nut butter is rich in fiber and protein that can provide you with full of energy.
Popular combinations include bananas or apples with cashew, almond, or peanut butter. I love banana and peanut butter with cinnamon, or raspberries and cashew butter with a sprinkle of sea salt.
For the most nutritional benefits, make sure you select nut butter without added sugar, oil, or salt.
2. Hummus and Veggies
Hummus is a vegan dip made from chickpeas, oil, lemon juice, garlic, and a sesame seed paste called tahini.
It is high in B vitamins and vitamin C, fiber, and healthy fats. It is easy to make at home or you can buy commercially prepared hummus at the market. However, the homemade versions are generally more nutritious than canned hummus that may have added vegetable oils and preservatives.
You can enjoy hummus with carrot, celery, cucumber, radishes, and other raw vegetables for a healthy and crunchy vegan snack.
3. Fruit and Veggie Smoothies
Smoothies are the best snack for vegans.
Smoothie ingredients have fruits and veggies, which are high in vitamins and minerals. You can easily make your own smoothie by blending water or plant-based milk with your favorite fruits and vegetables such as spinach, kale, bananas, and berries.
If you're following a vegan diet, you should consider adding a scoop of flax or chia seeds that provide important omega-3 fatty acids that some vegan diets lack.
My favorite is blueberry and acai smoothie. The recipe is blending 1 packet of frozen Acai with 100g blueberries, 100ml coconut water, and 1 tablespoon of natural almond butter.
4. Popcorn With Nutritional Yeast
Popcorn is made by heating dried corn kernels. It can be prepared in an air popper, microwave, or a kettle with oil on the stove.
If you make popcorn is made in an air popper, it can be a highly nutritious vegan snack.
The nutritional yeast has a yellow color, it is a high-quality plant protein and is usually fortified with zinc and B vitamins. It has a savory taste like cheese. Adding nutritional yeast can boost the nutrition of your popcorn snack even more.
5. Dried Coconut and Dark Chocolate
If you love sweet food, try eating dried coconut with a few squares of dark chocolate.
Dried coconut is made from dehydrated coconut flakes or pieces. Unsweetened varieties are incredibly nutritious, packing 18% of the DV for fiber in just one ounce (28 grams) (25).
Dark chocolate has at least 65% cacao provides you with plant compounds and it brings a number of health benefits like preventing oxidative stress, lowering blood pressure, and reducing inflammation in the body. To make sure your dark chocolate is vegan, try to look for brands that do not contain any animal-based ingredients.
6. Baked Veggie Chips
This snack is made from sliced vegetables, dehydrated, or baked at low temperatures.
Depending on the type of vegetables you choose, baked veggie chips are delicious and provide a variety of nutrients. For example, dehydrated carrots are loaded with vitamin A while baked beet chips are rich in potassium and folate.
You can make vegetable chips at home by baking thinly sliced veggies at 200–250°F (90–120°C) for 30–60 minutes.
7. Seaweed Crisps
Seaweed crisps are made from sheets of seaweed that have been baked, sliced into squares, and seasoned with salt.
They're a vegan, low-calorie snack loaded with minerals and vitamins. With the average seaweed-based snack, you get iodine, copper, iron, potassium, magnesium, and calcium. They are rich in fiber. You also get Vitamins A, B, and E.
You can pack them and take them along on long car trips or hikes, or they make great bar snacks for you while watching your favorite movies.
When purchasing seaweed crisps, look for varieties with minimal ingredients, such as SeaSnax, which only contains seaweed, olive oil, and salt.
8. Crispy Air-Fried Tofu
Tofu is a pretty good option for your healthy diet. Air fryer crispy tofu is a healthy, vegan, yummiest way to enjoy a block of tofu.
This snack is super easy to make. Just cut tofu into small pieces, add a few Smoked paprika powders, and other spices, bake it in the air fryer then enjoy with some salad and sauce.
Conclusion
The plant-based snacks I suggested above are a great way to combat hunger between meals.
They're easy to prepare and a nutritious option for vegans and those are trying to reduce the number of animal foods.