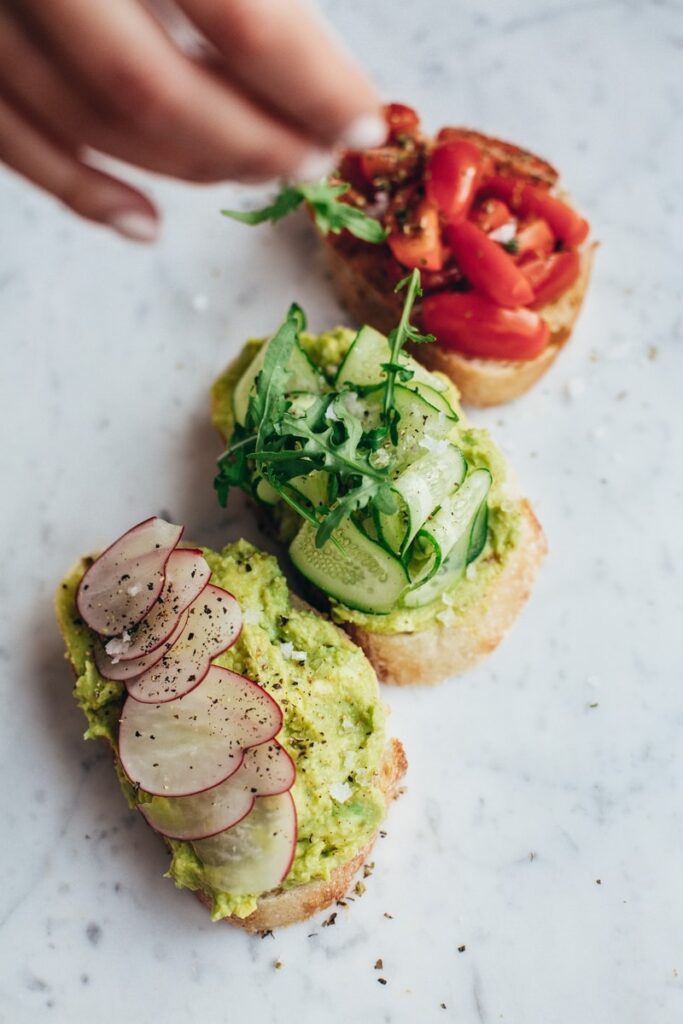 1. CARROT CAKE ENERGY BALLS
These carrot cake energy balls are the best snack for those who want dietary needs. They are gluten-free, oil-free, and nut-free, and the perfect, healthy treat to satisfy your sweet tooth while sticking to your nutrition goals.
It just takes 5 minutes to make and taste like little bites of carrot cake. Enjoy these for a healthy snack anytime, at home, or on a travel.
2. VEGAN SWEET POTATO COOKIES
These cookies are easy to make with just a few healthy ingredients to have a delicious breakfast, snack, or dessert. Without flour and studded with chocolate chips, these delicious spiced and sweet cookies will be your new favorite.
You can store it in a sealed container for 3-4 days at room temperature, up to 1 week in the fridge for or up to 3 months in the freezer.
3. NO-BAKE PUMPKIN PIE TARTS
These no-bake vegan pumpkin pie tarts are the perfect snacks, dessert, holiday treat, or alternative to pumpkin pie. The recipe is easy to make with just a few ingredients. Follow the step-by-step recipe in the link below then put them in the freezer for 30 minutes and enjoy with favorite dairy-free whipped cream.
You can store them in a sealed container in the fridge for up to 5 days or freezer for up to 3 months.
4. BAKED CINNAMON APPLE CHIPS
These delicious chips are easy to make with only 2 ingredients for a healthy snack. They are vegan, gluten-free, oil-free, no added sugar which is perfect for all ages.
It will take you 1 hour to bake but I completely love this food as the taste is amazing and it's so crispy.
5. BAKED BERRY PROTEIN OATMEAL
This vegan baked berry protein oatmeal is super easy to whip up for a breakfast or afternoon snack. They are full made from vegan protein with a taste like vanilla cake.
You can add a drizzle of your favorite nut butter, coconut yogurt, banana, walnuts as the topping.
Cool them then store them in a sealed container in the fridge, you can use them for up to 5 days or freezer for up to 3 months. This food can be enjoyed cold or reheated in the oven or microwave-based on your preference.
6. HUMMUS AVOCADO TOAST
You can have this Hummus avocado toast in your main meals or snacks. This food is a great way to start the day or enjoy a healthy bite for lunch or dinner. The ingredients are simple with bread hummus, avocado, salt, and pepper, or dress it up with sliced radish, hemp seeds, and pickled red onion.
7. KALE CHIPS
Kale is a great source of fiber, vitamin A, C, K, and folate which helps to manage blood sugar, can help lower cholesterol, and promotes a healthy digestive system. It's also a good source of essential minerals such as potassium, calcium, zinc, and phosphorus.
Crispy kale chips are a great alternative to processed chips but with none of the preservatives as well as artificial flavors. Making kale chips in the oven is an easy way to enjoy a healthy plant-based snack that's full of nutrition.
Kale is also great for eye health as it contains two phytonutrients called lutein and zeaxanthin which protect the eyes against age-related macular degeneration.