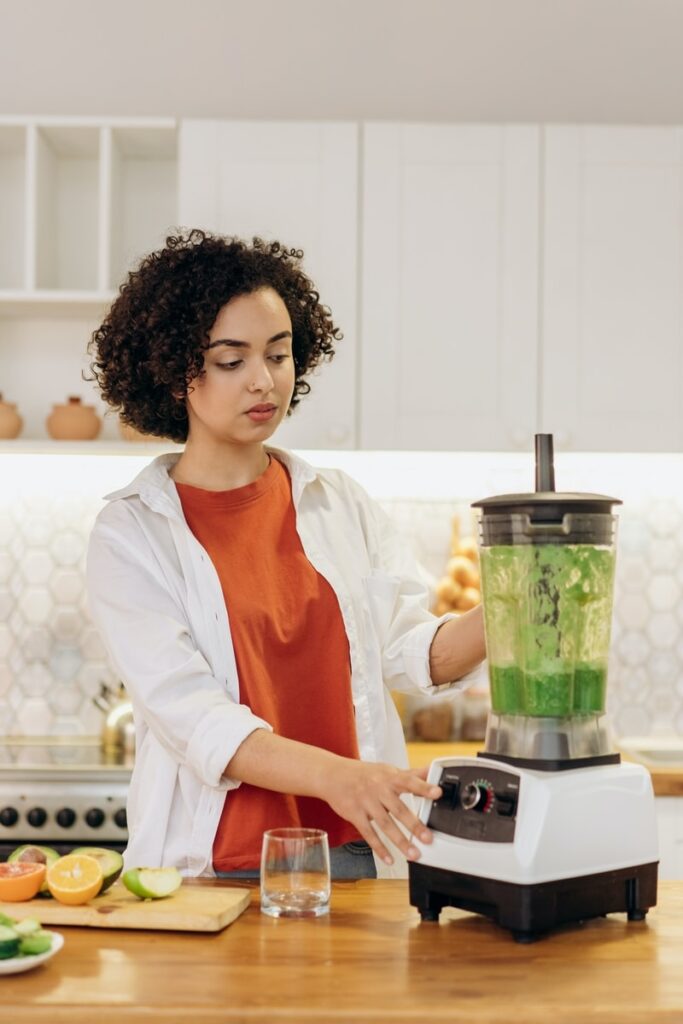 If you're looking for a blender to do one task – making smoothies to supply your body with fruits and vegetables, you don't necessarily need the most powerful, kitchen-shaking blender on the market. And with a bad blender, you might be left with chunks of frozen strawberries or stringy kale leaves.
The one that can crush ice into a drinkable slush, cut handily through frozen fruits, and pulverize the stringiest produce into a smooth liquid is the best fit for you.
However, if you don't use a blender every day, or you can't afford something so pricey, or you're living in a small space that can't store big appliances, you might want to buy a space-saving blender.
To find the best smoothie blender, check below seven full-sized blenders that will serve up terrific smoothies.
1. Blendtec Classic 575 Blender
If you want automatic settings that no need to use the Vitamix price tag, this blender might be the right choice for you. The auto settings are timed well and there is a preprogrammed cycle just for smoothies. You'll always make smoothies with the perfect texture.
The design is aesthetically appealing and modern. This model also has a pretty wide range of bright colors like blue, purple, white, gray that help matches your kitchen décor.
2. Ninja Professional Blender
This Ninja blender is an affordable alternative to expensive blenders but still powerful and super easy to use and clean.
Many cheap blenders always left drinks chunky, especially the ice part. The outside of this blender's box said that it would blend Ice into snow in seconds, try to test it with ice and you'll be surprised as you will get the outcome with no chunks or slumps of ice!
The smoothie will come to be delicious and FAST! I'm sure you will HIGHLY SATISFIED with it.
3. NutriBullet 600-Watt Blender
If you're looking for something a bit more affordable and that will take up less space on the kitchen counter, the NutriBullet would be what you need.
The equipment has smaller, bullet-shaped containers, which are portioned for one smoothie. The NutriBullet is great because it's affordable, compact, and easy to clean but still has great blending ability.
Remember, this blender cannot blend things without liquid, it will not perform well so you have to add a decent amount of liquid like water or milk. If you're low on budget, get this one it might be the best purchase you make for a healthy life.
4. Breville BBL820SHY the Q Countertop Blender
For those who would like to blend frozen fruits and render even the stringiest produce into a smooth liquid, this machine is a perfect choice. It works well with the ice-crushing function, too, if you want to replace a smoothie with a snow cone.
My friend said that after using this Breville for 8 years, it now still works like new! Super easy to use and clean, strong motor, elegant look, and creates amazing smoothies! She hadn't had any issues with it even she uses it almost daily.
5. Nutri Ninja BL642
This product is a High-Quality product that is well made, sturdy. It's designed with numerous safety features, many warnings (like sharp blades), and all blades are protected with custom-formed plastic sheaths, marked with a caution: handle with care warnings.
The directions were clear, simple to understand. The 3 pitchers with 3 Tritan cups and the base are big enough to store your drinks. It's easy to clean, easy to store, and easy to use.
6. Wolf Gourmet High-Performance Blender
The brand will provide you 5-year warranty with this machine. You can make Smoothie, Puree, Soup, and Ice Crush with four pre-programmed settings. Its function "manual speed setting" will help you blend ingredients to your exact preference. This blender is quite pricey but it makes the smoothest of smoothies that won't disappoint you.
7. Dash Chef Series 64 oz Blender
This blender is rated highest for all areas of performance on E-commerce websites, and the price is at the point we can afford well with a 7-year warranty.
Unlike other machines, you do not have to unscrew the base to remove and clean the blade which helps the base don't leak. To make smoothies, just put in the ingredients, select smoothie, push start and stand back. When it stops you have smoothies. It made a huge difference in the final result too! Tasty!