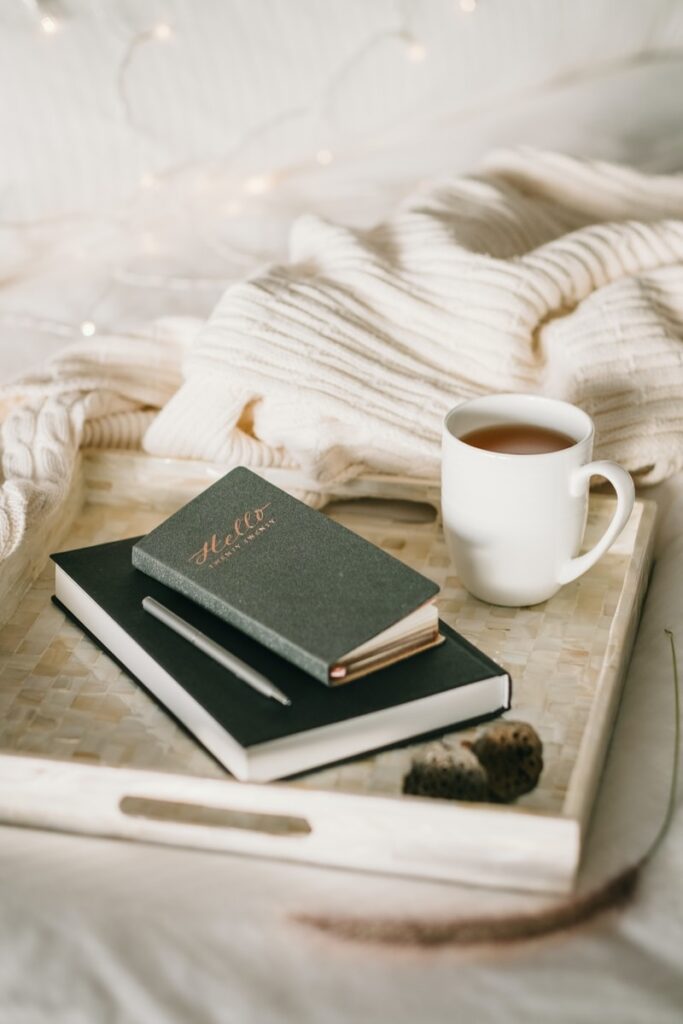 The idea behind calorie counting is that you write down the calories of everything you eat and monitor the calories you burn during exercise to make sure the total calories you consume stay below a certain number each day.
Another common tool that people can use to track their diets is by using a food journal.
With food journaling, you also need to write down everything you eat, but there are more factors to keep track instead of calories. They can be portion sizes (e.g. ounces, grams, etc.), meal plan, the time of day you eat, other activities related to eating (e.g. working out, watching TV, etc.), and how you feel after eating.
After doing a food journal for at least two weeks, you will gradually notice that you've built good habits (along with their triggers and rewards) that shape your health style. You can then understand more what is good for you to do more and avoid what doesn't.
Whether you're trying to improve weight, boost mental strength, or trying to be better at choosing foods, a food journal can help.
Calorie data are inaccurate
If you are counting calories you might be relying on food information or the nutrition info printed on a menu or box, to get your numbers.
It is a shock to most people to know that the calorie information on packaged foods is legally allowed to be off by 20%, and the majority of them are not showing the correct info you need. Even restaurant menus have also been shown to be pretty far off the real calories they serve.
The listed info in the databases of fruits, vegetables, and meats only represent the average calories of industrially produced foods, and the ones you actually eat can be quite different depending on elements like the season, fertilizer, pesticides, soil quality, and serving size.
The only way to accurately determine the calories in a specific food is to incinerate it in a calorimeter, and of course, no one can enjoy it.
Of course, I still believe there is some value in paying attention to this info but the problem is these numbers are not correct.
What are the benefits of keeping a food journal?
Food journals have been studied to be beneficial to double a person's weight loss. Obesity study found that 142 participants lost the most body weight when they spent an average of about 15 minutes each day journaling over 6 months.
Besides weight loss, you will get other benefits like tracking your eating behaviors, which particularly help you recognize unhealthy eating patterns to limit.
Here are 8 tips to keep in mind while food journaling:
Ready to get started? Follow these tips to keep a food journal in mind when you're starting off.
Track your mood/emotions and your internal cues surrounding the meals. Take note of different patterns that come up with your meals/snacks and why they are meaningful.
Are you eating when you are really physically hungry or emotionally?
Are you satisfied with what you ate?
Were there any reasons that prompted you to eat more or less?
Focus more on HOW you eat than the specific minute details of calories and fat grams.
Keep it short. You don't need to make it long or complicated, have a bullet journal is best idea to save time. Just a few notes to track your eating habits and create healthy meal plan is enough.
Track your hunger/fullness. Evaluate your hunger and fullness. Make and employ a tool like the Hunger Fullness Scale to track.
Don't forget the beverages. Water, coffee, tea, and smoothies are all important to count.
Snap a photo. A photo of your diet can inspire and help raise your awareness quickly about your growth without leading you to obsess over numbers. I love having nice pictures of healthy meals and achievements on my journal, they're cute and motivational.
Be honest. Be honest with your food intake entries and portion sizes; because if you fake to make everything look perfect, you're wasting time on this journey.
Invest in a dietitian. If your budget allows you, go to a dietitian as he can help monitor your intake and provide supportive and helpful feedback.
The bottom line
I hope this article gives you new ideas to start a food journalling for your healthier life.
What is your experience with calorie counting and/or food journaling?
Please put the comment below to share with me~